Case Study
The Christie: Sharing oncology expertise internationally through UK healthcare consortiums
The Christie NHS Foundation Trust offers specialist cancer advice, including training and education, to healthcare providers across the world.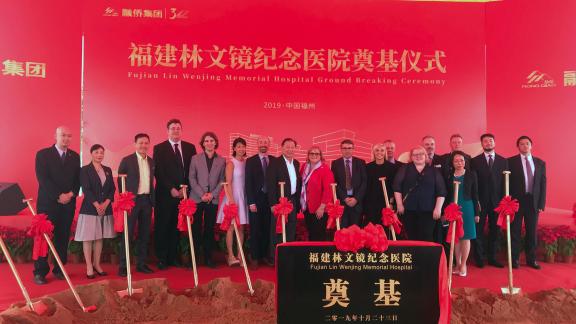 The Christie has developed and refined its commercial approach to international working over a number of years, and reinvests any profit into its services. 
Overview
The Christie NHS Foundation Trust is one of Europe's leading and most technologically advanced cancer centres, with a proven track record of clinical excellence, building on more than 100 years of innovation in cancer treatment.
It is a strategic ambition of the trust to maintain its status as a world-leading cancer centre by providing specialist cancer advice, including training and education to healthcare providers across the world.  This is undertaken on a commercial basis so that any profit generated can be reinvested into NHS services.
The Christie has developed and refined its approach to international working over a number of years.  In this time, The Christie's leadership has joined various trade missions and conferences to promote and discuss its service offer with prospective clients in India, China and the Middle East.
What the organisation did
Initially, the trust considered approaches and hosted visits from a wide variety of potential overseas clients. But, in many cases, the scope of these opportunities was subsequently judged to be broader than the trust was seeking. The trust was mindful of advice it had received from a number of sources: to focus on what it does best and not to be overly ambitious at the outset but, instead grow steadily through successfully delivering a portfolio of projects.
In 2017, The Christie signed a partnership agreement with Cork University Hospital to provide clinical and technical advice on the development of a new radiation oncology centre.  This project was delivered over four phases over 36 months and was successfully concluded with the opening of the new centre.
The proximity of the client, being English speaking and with existing relationships with The Christie through the clinical lead, facilitated swift negotiations and simplified the delivery of this first substantial contract.
In 2018, The Christie entered into a contract in less familiar territory and sought to manage certain risks associated with this by joining a consortium of NHS and private healthcare organisations.
The Christie became a collaboration partner within the NHS Northumbria International Alliance (NHS NIA), which is hosted by Northumberland County Council and had successfully secured a contract to provide advice to The Rong Qiao Group on the development of a new hospital in Fuzhou, China.  The Christie was contracted to provide the oncology advice to support the development of an appropriate oncology service within a large tertiary general hospital operating to international best practice.  Whilst the trust had met the client on a number of occasions in person before the project began, most of the work to date had been undertake remotely, with all translation of materials being undertaken by the client. The work from the Christie and other NHS NIA subcontractors was very well received and the trust is now scoping a third stage of work with this client through NHS NIA.
While the COVID-19 pandemic inevitably required The Christie to revisit its model for international work, its guiding principles and method of working in partnership with other NHS providers, typically as a sub-contractor, remains the preferred approach.  This has helped the trust to focus solely on providing its clinical and technical expertise to clients, without taking the lead on complex legal and commercial negotiations.
The trust was delighted to be approached by Kings Commercial Services (KCS) to be their oncology partner, to advise a client in establishing a new hospital build in Abuja, Nigeria.  After many years of negotiations with the client, KCS has secured a ten-year contract to support the development of a medical centre of excellence in cardiology, haematology and oncology, with ongoing quality and assurance support once the hospital starts treating patients.
The project will also allow The Christie School of Oncology to extend its global reach by providing education and training opportunities including observerships, clinical fellows and online masterclasses.
 
Benefits
As well as enhancing the reputation of the trust internationally, such partnerships provide an opportunity to generate income to reinvest in The Christie's NHS services as well as giving staff the chance to further develop in their roles.
The income from Christie International projects to date has already funded the recruitment of an advanced clinical practitioner review radiographer and will allow sponsorship of a new international fellow in the coming year.  These investments in NHS services are in addition to income already shared with the clinical divisions engaged in international work.
While no international project is without a degree of risk, the trust considers that by adopting its preferred approach of operating within a consortium/partnership model, it is able to manage the time commitments of clinical and technical experts most efficiently while also providing world-class oncology expertise to clients.