Blog post
NHS Reset: Mobilising our people
Our NHS Reset campaign contributes to the public debate on what the health and care system should look like in the aftermath of the COVID-19 pandemic.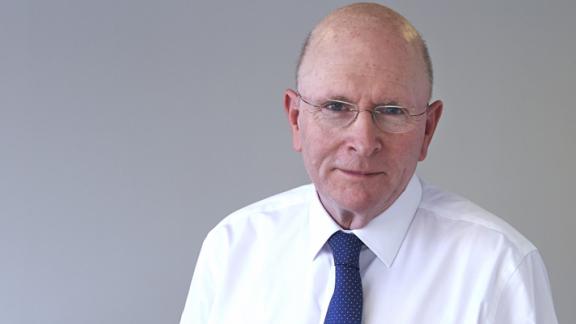 In this blog, part of a series of comment pieces from NHS Confederation members and partners, Niall Dickson reports that for the NHS to continue delivering to the levels it has been, we need to create and sustain a positive staff experience throughout the service.
I only once broke down in 16 years as a BBC correspondent. It was while trying to do a piece to camera at the gravesides of the primary school children massacred in the small town of Dunblane in 1996. I found it difficult to cope with the enormity of the tragedy and the ordinariness and familiarity of where it all happened. I still often think about the cruelty, the 17 lives lost and the many more who were damaged or ruined as a result.
But I was the observer not the participant.
For those fighting this pandemic it is different. I have been struck in the last few weeks by how many leaders within the service are increasingly worried about what this period has done to their workforce, and what both the short- and longer-term impact will be on individuals and teams.
It is a differential story. One chief executive said it was bit like the second world war where some had been in the thick of it on the front line, while others were serving in the equivalent of the Home Guard. Some institutions have also been hit harder than others, who have had to cope with large numbers of COVID-19 patients and many deaths including deaths among their own staff.
Mixed emotions
And for many, all this has brought mixed emotions and senses, including fear, guilt and exhaustion.
Fear, because delivering healthcare is not usually a life-threatening occupation but that has become the daily reality for many NHS and care staff over the last four months. And it has not only affected them but their families, anxious about them and what they may bring home. Fear must be at its height in settings where the virus is most prevalent and where there is uncertainty. The community nurse entering the unknown setting of a patient's home, the ambulance crew managing an unconscious patient down a narrow stair well, the GP working alongside staff in an infected care home; in normal times these would not be frightening encounters, now they can be just that. Moreover, fear has been exacerbated by inadequate or unreliable supplies of PPE, and more recently by the fear of a second wave of infection.
And among ethnic minority staff, there is additional fear because they have witnessed how this virus discriminates and targets them and their communities.
There is guilt too; among some staff who feel they have not been able to contribute or contribute enough. There is guilt among those who have contributed, that they could not do more.
The sheer scale of the death toll itself has made a mark – most clinicians do not routinely have to cope with death; again this has become the reality for some who have found themselves supporting one dying patient after another, each of them denied the comfort and presence of their loved ones. 
It is hardly surprising that there is a palpable sense of exhaustion across the service. There are those who have not had a day off for months, and those who are feeling and sometimes saying, 'I have done my bit – it is time for me to move on'. Everyone copes in their own way, but we are embarking on the next phase with many tired staff, including senior figures leading local services who have sacrificed home lives to help manage the crisis.
Reaching out to support our staff
The next few months are likely to be as challenging if not more so, as the focus switches to restarting the engines and resetting the service. We now know it was easier to move into COVID-19 mode than it is to ease out of it.
It will be important to acknowledge all this, and the staff dimension, as many of you are already doing. It has probably never been so essential to understand what staff have been through and to reach out to them. The introduction of a range of practical support services such as wobble rooms have proved particularly helpful. They provide the opportunity and space for reflection and calm, and they send a signal that it is natural and okay to be stressed. Access to mental health support will be increasingly important.
The use of positive reinforcement makes a difference in so many ways and we have seen a lot of this. Sending letters to the children of staff, thanking them for their part in tackling the virus; the gifts of food from local businesses; the weekly clap; all these will have helped morale and combated the loneliness that can come with stress and anxiety. It will be important too to remember staff who have died and to acknowledge their contribution.
The task ahead
There is growing recognition that if health and care services are to have even the slimmest hope of delivering what will be required, we need to create and sustain a positive staff experience throughout the service. In many settings they have shown that we can look after our people differently: the challenge now is to sustain those changes. And while there is a role for national interventions, a lot of this is about cultural change - it is about what happens at work and it depends on the actions of employing organisations and their managers.
Alongside this, there is a major job to improve the working lives of ethnic minority staff. Data from the Workforce Race Equality Standard team has consistently shown how much more there is to do to tackle discrimination and create a fair and supportive working environment which values everyone equally. We need to rethink how we attract, recruit, train and develop our staff.
Everywhere we have seen major changes in working practices, many of which would have taken years to achieve in normal times. This is surely also the moment to deploy technology to change our ways of working clinically and administratively. The advances in digital capability and maturity have been considerable and they must mean many more opportunities to work differently and more effectively.
In so many cases, reforms have been achieved by managers and staff just 'getting on with it'. But if we are to retain the gains, we need to capture and support that spirit and at the same time engage staff in change with a clear narrative around the benefits for patients, and in many cases for staff as well.
And of course, the underlying structural problem remains – the service does not have the number or skill mix of staff to deliver the volume or quality of care that is needed. The People Plan for England is expected soon and will lay out the scale of the challenge. The delay in publishing it has become the story, rather the call to action it so desperately needs to make. The challenge is likely to be bigger than ever, given our continuing dependence on international recruitment.
The scale of what the NHS faces is gradually becoming apparent – even without another spike the 'to do' list is immense – recognising what staff have been through and mobilising their drive, commitment and creativity will be essential if the NHS is to have any hope of delivering.
Through our NHS Employers' programmes and across the Confederation we will be working to support members – our new NHS Rest campaign is working with employers to identify what they need from the national infrastructure to support local workforce change. You can find out more at about NHS Reset here.
Niall Dickson is chief executive of the NHS Confederation. Follow them on Twitter @NHSC_Niall and @NHSConfed