Article
National Coming Out Day
Reflections from LGBTQ+ leaders in the NHS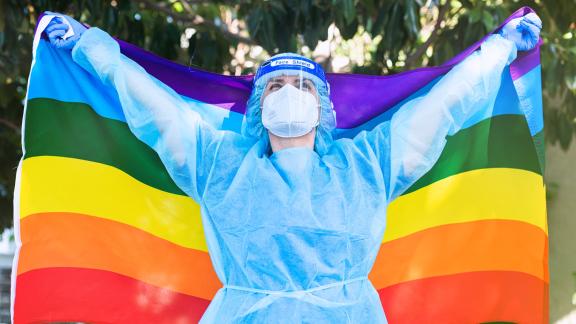 In celebration of National Coming Out Day, we have compiled a few coming-out stories from some of our LGBTQ+ leaders in the NHS. They specifically focus on coming out at work.
We hope that they encourage and inspire LGBTQ+ staff across health and care to be able to be their authentic selves both in and outside of work.
Carolyn Regan, Chief Executive, West London NHS Trust
I came out in San Francisco (after taking a bus from the East Coast) and going on the march to protest the murder of Harvey Milk.
"Our struggle has been as basic as saying who you wanted your death-in-service benefits to go to."
When back in London, and as a junior manager in the NHS, I wrote a letter to the Health Service Journal about the then pension arrangements and said I wanted to name my beneficiary as my partner (and mother to our children) in the event of my untimely death. I was literally inundated by letters and messages from staff, many of them clinical, all of them wanting the same thing. Our struggle has been as basic as saying who you wanted your death-in-service benefits to go to.

When I became a chief executive for the first time, the HSJ described me for a while as "lesbian chief executive Carolyn Regan," this continued until I asked why they didn't refer to other chief executives as being "heterosexual CE Jane or Jim". It stopped then.
I'm glad to say this has changed, but I'm also very aware there is still some way to go. For example, the first edition of the NHS People Plan first edition referred to large numbers of LGBTQ+ staff in the same section as people with disabilities and/ or those with a long term condition. This only changed when our lesbian and gay chief executives and senior managers spoke out. All of this leads me to ask: where are our allies?
Tracy Myhill, Chief Executive, Swansea Bay University Health Board
I met my husband in my first job as a clerical officer in the NHS in 1984. We had two children together.
In 1996 I held my first director role as director of human resources. During that job that my whole world changed forever. It was when I met my PA, Dee.
Working closely with your PA isn't unusual. Falling in love and meeting your future partner in work is a path well-travelled. The HR director falling in love with her PA is less common and was an even bigger deal and ever more complicated given our circumstances, both married to men and with young kids. Also, my husband, Dee and I all worked in the same organisation.
We feared for our jobs, kids, families, friends - thinking we might lose them all.
Living a lie was debilitating and exhausting. We decided to come out to all the important people in our lives.
My boss was amazing, advising me to share the news far and wide, assuring me that it would be like the newspapers - wrapping up fish and chips the following day. My team said they already knew. Even my husband said it was obvious!
There were many challenges to overcome but I remember feeling a great sense of relief.
"Being my authentic self has enabled me to be more confident and courageous."
Coming out has not affected my career; I think it has been strengthened as being my authentic self has enabled me to be more confident and courageous.
I feel extremely privileged being a chief executive in the NHS. My position allows me to do all that I can to promote a culture that encourages and supports our people to be themselves.
Being myself has enabled me to achieve more than I ever dared dream and that is exactly what I want for our fantastic staff within the NHS.
Dr Russell Hills, Joint Chair, Surrey Downs ICP
After my house jobs in 1996-97, I decided to go travelling to Australia for six months. When I returned I was due to meet at my brother and (now) sister-in-law's flat in South London, along with my parents, to be welcomed home. Rather than have a welcome home, I decided instead to have my coming out to my immediate family.
I knew I was gay from around the age of 11 or so. In those days that was very much not okay, so I also learned at the same time to hide myself in plain sight. The struggle and guilt this engenders as a developing young person and young adult is very difficult to describe. Internalised homophobia/biphobia/transphobia is something most of us have had to deal with, and goes a long way to describe the problems with mental health, addiction, and ultimately suicide, that our LGBTQ+ community has to deal with. For me you can also add into the mix being a teenager during the early years of the AIDS pandemic. Pictures of tombstones and grim reapers on many walls surrounded me, adding to my sense of guilt and shame about who I was.
"The sense of community gave me the courage to decide on my coming out."
Enough was enough. Fortunately I had developed a very close friendship with a female SHO, and I was confident enough to come out to her, and she then accompanied me on my first forays into London to a gay bar called The Box, where I was very lucky to be quickly adopted into the close knit community at the bar. These friendships and the sense of community gave me the courage to decide on my coming out mentioned above.
I knew my family loved me dearly, but I had heard stories of friends who had been cast out of their families and friendships when they had come out. I had an overwhelming fear of losing everything important that I knew and loved, but I knew I could not continue without revealing my true self to my family.
The day arrived. The prodigal son had returned from his travels and I set off to be re-united after six months away. Unbeknownst to my family, I had friends from the bar waiting in a car outside my brother's house, just in case I needed to make a quick getaway. I don't want to go into the exact details of the conversation, but upon the news my mother shed a tear, as she was worried about the impact on my life due to the reaction of wider society. In effect I was going from being in the very privileged position of being a white, straight cis-man, to the marginalised role of a gay man. The tears of worry were brief however, as they quickly turned to tears of love and support. My whole family got up to embrace me and tell that they loved me, no matter who I was, and that things would never change from that. My father even cracked open the champagne they had saved for my arrival, declaring "I have never had my son is coming out champagne before!"
My friends outside, waiting in the car, were given an all clear, and left me in the loving arms of my family. I have never looked back since.
About National Coming Out Day
National Coming Out Day began in 1988 and is celebrated every year on 11 October. The day is a platform for the LGBTQ+ community to celebrate being out and proud, and also to raise awareness of LGBTQ+ issues.