Infographic
National actions to help local leaders improve staff experience
Employers' feedback on what is needed nationally to support employers with workforce challenges.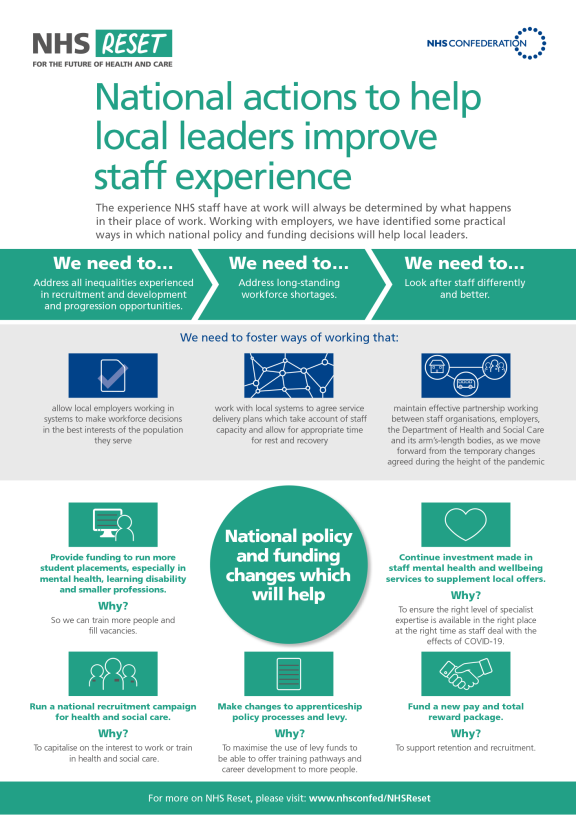 This summary provides employer feedback on a selection of national policy and funding decisions to help local employers with their workforce focused activity and the relationships needed between different parts of the system.
This has been launched by the health and care workforce strand of the NHS Confederation's NHS Reset campaign.
The themes from the summary:
Local focus - the experience an individual has at work is created in the place where they work. Any actions need to empower local leaders to work with local partners, to make decisions about how best to support their workforce.
Tackling discrimination - the pandemic has shown the inequality experienced by BAME and other colleagues which employers are wanting to address through approaches to recruitment, people management and the design of on-going talent management or development plans  - underpinned by listening to the voices of our people through local and national networks.
Addressing long standing workforce issues through national policy and funding decisions - many of the workforce issues facing employers, especially around skills gaps and supply, pre-date the pandemic. Making changes to the way in which the apprenticeship levy can be used, funding additional placement capacity, enhancing the mental health and wellbeing offer for staff and running a national campaign to attract into training and employment across health and social care will help. Alongside these, long-term investment funding to deliver a modern total reward package is essential as a core component of any attraction and retention offer for staff.
Partnership working between employers and staff organisations - through the height of the pandemic a number of temporary workforce and employment related changes were agreed between national staff organisations, employers and the Department of Health and Social Care – as we move into the next phases of managing services with COVID-19, these must be re-visited and not assumed as long term changes.
The NHS Reset campaign is part funded through sponsorship by Novartis Pharmaceuticals UK Ltd