Blog post
Mentoring through crisis: Army and NHS mentoring scheme
Mentoring from the Army benefits from the similarities between it and the NHS, but also assists in its objective insights and support.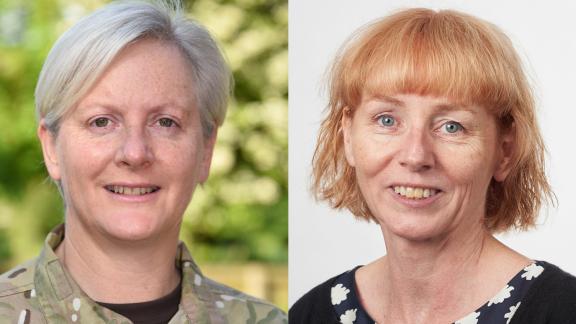 After the Health and Care Women Leaders Network shared an article on mentoring in their monthly newsletter, Sophie, an NHS deputy director was inspired to access valuable mentoring support from a Brigadier during the pandemic. Below the two share what the experience taught them.
A view from Brigadier Suzanne Anderson, Army mentor
The NHS reached out to the Army at the beginning of the pandemic to see what support we might offer in the way of 'leading through crisis.' The Army director leadership at the time suggested having a mentoring programme as many Army leaders have experience of leading on operations in crisis situations and are well placed to offer guidance and support.
All Army mentors are required to undertake some mentor training before being accepted onto the programme. I am a senior leader within the HR field in the Army, currently leading a large mixed team of approximately 700 military and civilian personnel and responsible for the promotions and assignments of all Army personnel, both regular and reserve, all around the world. During my 27-year career I have faced numerous challenging situations and was able to draw on these to engage in conversations with Sophie and help her navigate the challenges she was facing.
This is a mutually beneficial programme providing a safe space for the NHS mentees to find clarity and focus, improve their confidence and self-awareness, understand team dynamics as well as having a sounding board external to their own organisation. The NHS participants have demonstrated how committed, capable, hardworking and selfless individuals within the NHS are. Army leaders have also benefitted a great deal from being part of the programme, not just by being able to offer assistance during the crisis and improve their mentoring skills, but also gaining insight in to how another organisation works and improving their self-awareness through reflection of shared experiences. Mentoring is about offering support and guidance, sharing relevant experiences and allowing mentees to come to their own conclusions – not about the Army telling the NHS how to do things.
Mentoring is about offering support and guidance, sharing relevant experiences and allowing mentees to come to their own conclusions
On a personal level, I have really enjoyed being involved in the programme and hope that Sophie has found benefit from it. We have had some really insightful conversations and it surprised me how many similarities there were in terms of the types of problem we discussed.
A view from Sophie Holmes, deputy director of psychology and psychological therapies
Starting a new senior leadership post as the COVID-19 pandemic was unfolding was daunting, and completely upended the agreed priorities. My plans for induction visits were over! The following months were extremely pressurised, with rapid decision making, and difficult discussions about the prioritisation of psychological work, and staff redeployment.
Working from home was really difficult, in part because of the challenge of IT - I had three successive laptops before getting one that worked reliably. Staffing issues were much more difficult to resolve when face-to-face contact wasn't possible, and the glue of informal contact was removed. Working with colleagues I had never met face to face was hard. Despite the support of my manager and professional lead it was without a doubt the hardest period of my 30+ years career.
To add to this stress, everyone had personal challenges due to COVID-19. We were all coping with prolonged separation from close friends and family members, and unable to engage in the sorts of activities that normally would nourish or sustain us in times of difficulty.    
I know I wasn't alone in this, but it felt very lonely. Without an existing team that I knew well, it was hard to access support for myself. I decided to sign up for the mentoring scheme hoping that this could help me navigate through what was becoming a permanent, rather than temporary, change to working practices. 
I was matched with Suzanne, and from the moment her details were passed to me I felt a huge sense of relief. Suzanne's experience and understanding of public service was evident but, importantly, as a senior leader, who was also a woman, she understood me. We had seen how valuable the Armed Forces were in our disaster management plans nationally. The shared values, and commitment to service were noticed, and over time it became more obvious that as female leaders we had even more in common.
It was particularly helpful to talk to someone outside my usual world, to question and reflect on my role, the work, and being a senior leader
We talked through a number of work-related challenges. Her time, reflection and observations of similarities in our work was so helpful. The lessons learnt from our careers were similar, we talked about strategies to manage some of the issues we had both had to deal with. It was so helpful to have the confidential space, 'away' from my usual support, and with someone who asked some really pertinent questions about how we do things in the NHS.
It was particularly helpful to talk to someone outside my usual world, to question and reflect on my role, the work, and being a senior leader. Reviewing models of leadership and what impact these had on our staff was illuminating. Learning about leading in urgent situations was so key in helping me to make sense of things we were struggling with in the NHS. The sessions allowed me to speak frankly about the issues I was dealing with, and work out what I could address, what I needed to accept, and how important it was to be kinder to myself!
Brigadier Suzanne Anderson is one of the most senior women in the Army and responsible for the individual development of soldiers and officers.
Sophie Holmes is deputy director of psychology and psychological therapies at Sussex Partnership NHS Foundation Trust. Follow Sophie and the trust on Twitter @sophieclinpsy @PPT_SPFT