Blog post
Learning from complaints: Why patient involvement matters
Derbyshire Healthcare NHS Foundation Trust on its praised programme of patients involvement in the teaching of undergraduate medical students.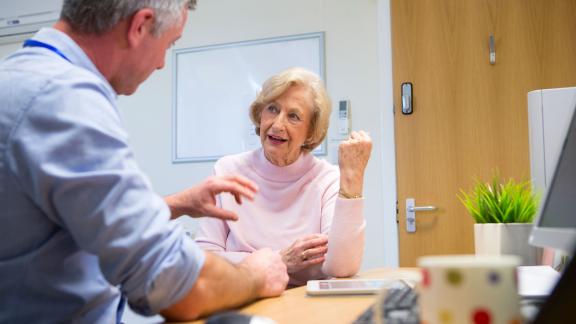 The Psychiatric Teaching Unit at Derbyshire Healthcare NHS Foundation Trust has won accolades for its programme of involving patients in the teaching and training of undergraduate medical students. Here, colleagues involved in the programme share how it works and why patient involvement is striking a chord with patients.
"People will forget what you said, people will forget what you did, but people will never forget how you made them feel," said Maya Angelou. It is no surprise that of the over 4,000 complaints the NHS receives every week, staff attitudes and communication top the charts in the list of causes for complaint.
Almost two thirds are directed at medical and nursing staff members. Unresolved complaints lead to significant distress to patients, carers and staff extracting a significant human as well as financial cost.
Learning from complaints, completing the learning cycle
Feedback has the best evidence for bringing about sustainable change and forms the basis for any quality improvement (QI) programme. Patient complaints offer grassroots level raw data that can be used to change practice and improve patient experience and outcomes.
One would think that learning from complaints would be a staple of staff learning and development. In practice, clinicians are usually involved in individual complaints received but hardly ever get systemic feedback about the complaints at service or organisational level. Dealing with complaints at an individual level may resolve the individual case but misses the opportunity to make systemic changes to address the root causes of complaints.
Patient involvement in learning
Learning occurs best when it is set in the context of one's practice and when it creates an emotional resonance. Experiential learning creates deep learning and real patient narratives can bring to life an otherwise dry topic. This experiential learning can be made even more effective by combining it with feedback, as discussed above.
The Psychiatric Teaching Unit in Derby has won accolades for its award-winning programme of involving patients in the teaching and training of undergraduate medical students. A characteristic feature of this programme has been that expert patient involvement is not limited to sharing the personal narrative, but instead includes providing direct feedback to students on their skills and attitudes from a patient perspective.
Expert patient involvement has been consistently rated at over 90 per cent and is the highest rated element in students' training.
What did we do?
Combining QI with educational principles, we decided to use themes from patient complaints to develop training for our colleagues. In line with our values, the training was co-produced. The result of the analysis was in consonance with national trends. Of the 159 complaints in the year, over 60 per cent related to staff attitudes and communication and only 10 per cent related to lack of service provision.
Thematic analysis demonstrated hot spots around patient interaction with non-clinical staff and in staff interaction with patients with a diagnosis of personality disorder.
A half-day training programme was designed by the psychiatric teaching unit. Firstly, staff members were provided with local and national data – this challenged the belief that most complaints would be related to sustained cuts in mental health funding. Staff members were also surprised to learn that complaints from patients with personality disorder were more likely to be upheld. This was followed by the personal stories of two expert patients, who talked about their experience of services and related actual incidents where staff attitudes had made them feel ignored, anxious or otherwise upset and its impact on their self-esteem. The final session consisted of a role play of scenarios based on the themes derived from the complaints.

The scenario was enacted by role players and using the technique of forum theatre. The group was then asked to comment on what they thought needed to change. The scene was then replayed, this time inviting the attendees to stop the scene whenever they felt the 'staff' role did something wrong. The attendees would then direct the role player to play an alternative and more appropriate response. Expert patient teachers co-facilitated the learning experience with nursing and medical educators.
Sixty five out of 68 delegates rated the training as excellent or very good and highlighted specific areas in which they would change their attitudes (more confidence/more empathy) or behaviour (more tolerant/more patient). This success led to the training being rolled out to other staff groups.
Take home points
Use complaints as data for learning experience, not just for individuals but for staff groups.
Humanise the learning from complaints by involving patients in designing and delivering teaching tailored to address themes arising from complaints.  
This post was co-authored by:
Dr Subodh Dave, Consultant Psychiatrist, Associate Dean, Royal College of Psychiatrists @subodhdave1
Alexa Sidwell, Clinical Nurse Educator, Derbyshire Healthcare NHS Foundation Trust @derbyshcft 
Dr Sridevi Sira Mahalingappa, Consultant Psychiatrist, Derbyshire Healthcare NHS Foundation Trust  
Simon Rose, Lived Experience Development Worker, Psychiatry Teaching Unit, Derbyshire Healthcare Foundation Trust