Article
IHF Young Executive Leaders Programme
Be part of this excellent opportunity to share your experiences of healthcare management with international peers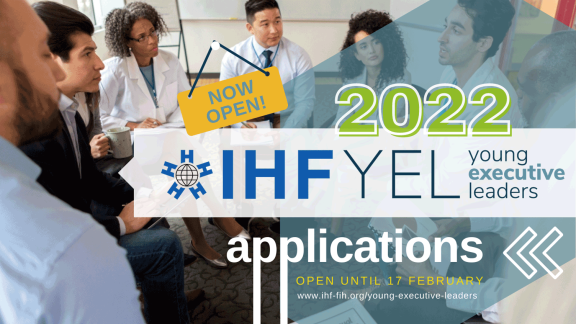 Each year, from April to November, 35 aspiring hospital leaders from across the world join the International Hospital Federation's Young Executive Leaders (YEL) programme. The programme is an excellent opportunity for young healthcare managers to join international peers to discuss challenges & opportunities in healthcare leadership and share their management experiences.
What it involves
Successful participants attend a series of ten interactive 90-minute masterclasses devoted to various health and care issues, including assessing their leadership style, harnessing big data, or working towards more sustainable healthcare. In parallel, participants will work in small groups and produce a short paper about one of these topics. At the end of the programme, participants will attend the 45th IHF World Hospital Congress (WHC), which takes place in Dubai, from 9-11 November.
Eligibility criteria
The YEL programme is open to mid-career professionals working in a hospital, hospital association or ministry of health, and willing to develop their leadership skills while learning from international experiences. Candidates should hold a leadership position within their organisation or aspire to grow professionally to become better leaders. Applicants must be 40 years old or under and be affiliated to an IHF member organisation (the NHS Confederation is an IHF member).
Application process
The deadline for submission of completed applications is 17 February, with successful candidates notified in early April. It is expected that the programme will begin in late April. To apply, you should complete the online application form by the 17 February deadline. In the meantime, to see what previous candidates thought of their participation in the YEL programme, check out the details for the 2019-2021 programmes.