Blog post
Cross-sector collaboration is a game changer for social change
New York City is collaborating with other sectors to move healthcare on.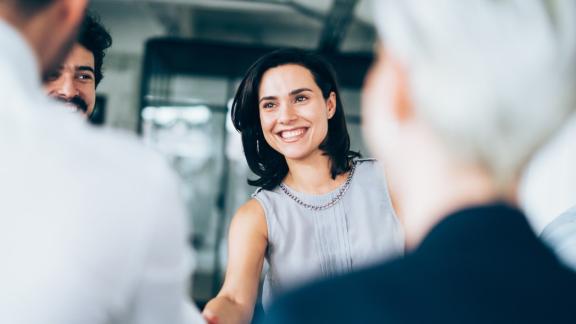 Most of today's most pressing social challenges are too complex for any single institution to solve. To move the needle, sectors will need to collaborate like never before. In this post, we get a glimpse into how such an approach is making an impact on some of New York State's most vulnerable children. 
To address the challenge of improving quality and addressing cost pressures within the NHS, the need for integration of social care and healthcare is clear. To do so will require cross-sector collaboration which seeks to collectively solve some of the most pressing social issues of our time. 

In a previous post, Jason Helgerson outlined the obligation healthcare providers have to become agents for social change. Once healthcare leaders accept this challenge, the next question can be daunting – how?  

The truth is that today's most pressing challenges are far too complex for any single institution to solve. Consider a homeless man, relying on a local shelter for housing, while also using services from an NHS mental health trust. Or a frequent A&E user, who visits the local hospital because of substance abuse rather than for an acute healthcare need and who should be relying on a social service agency program for recovery services. Or even a single parent, whose mental health care directly impacts their child's attendance patterns at school.

All of these individuals use services from different sectors, and yet the lack of systems-level coordination usually results in a lack of progress towards solving the core challenge. But when organisations work together under the right conditions, they can accomplish amazing feats –ending homelessness in large cities, reducing the number of super-users using A&E at high rates, or even moving the dial on student achievement – all at population level. 

The gains from cross-sector collaboration are easy to imagine, but it can often be challenging for us to know where to start. Who should I call? Who is responsible for this kind of work? How do I find the time? The good news is there is an existing framework for how sectors and institutions can work together collaboratively to solve highly complex, population-level issues – collective impact. 

Collective impact is the framework we are using in New York to model how the education and healthcare sectors are teaming up to increase the level of school readiness for young children. 

In Albany, New York, we are launching a cross-sector collaborative project designed to address a long-standing problem faced by some of our country's most vulnerable children – those under the age of 5. Nationally, 40 per cent of children enter the school system not ready to learn. During the first five years of life, 95 per cent of a child's brain develops, meaning these first years are critical to building a strong foundation for a child's academic future. Entering school ready to learn is important, as it's a key building block to reading by third grade, a strong predictor of high school graduation. 

In Albany, fewer than 20 per cent of children read on grade level by the end of third grade, and 40 per cent don't complete high school. But the school system on its own cannot fix this problem – if 40 per cent of children are coming in unprepared for school, schools are already attempting to fill gaps before the child has even started their formal education journey.

Healthcare professionals reading this post may ask why school readiness is a healthcare problem? Don't we have enough problems in our world to deal with already? Our answer is that school readiness is one of the most powerful predictors of lifetime success.  As a result, if we can move the needle on it we can increase the number of individuals and families not challenged everyday by the 'social determinants of health', such as homelessness, substance abuse and domestic violence. As one of our colleagues from the state of Oregon recently put it, increasing school readiness reduces the number of super-users in the future.    

This problem has remained unsolved because it is both complex and cross-system. No single organisation or sector is completely responsible. Consider this – while the first few years of a child's life have proven to be the most important in building neuron connectivity and architectural strength of a child's brain, most children are not in formal school settings at this age, either staying at home or with a caregiver. This means that we have no system-level approach to apply an intervention through the education sector. 

Children do, however, routinely show up in doctor/paediatrician offices during these first few years of life, attending to immunization shots and well-child visits. Here is where the opportunity to collaborate was discovered. 

Collective impact is simply an organising framework of how organisations across sectors can work together to achieve results. Too many of us have been part of 'collaborations' where complex issues are talked about, but nothing is accomplished – we call this 'admiring the problem'. 

This typically isn't because of malicious intent, but rather due to the difficulty of highly trained professionals leaving a specialised sector (doctors, nurses, healthcare administrators) to collaborate with other highly trained professionals of another sector (school teachers, principals, administrators.) We often talk in jargon, acronyms, and we typically don't know or trust each other, giving way to assumptions and misunderstanding. In this space, partnership and collaboration move at the speed of trust. 

You can read more about collective impact in the Stanford Social Innovation Review, but at its core there are five conditions: 
common agenda
shared measurement
mutually-reinforcing activities
continuous communication
and strong backbone support. 
We'll briefly illustrate how these five conditions facilitated our work in Albany. 

In 2016, the Albany Promise cradle-to-career partnership approached the New York Medicaid programme with an interesting proposition – would Medicaid join the partnership with its pre-existing common agenda of improving educational outcomes for children in Albany across six key indicators, from cradle to career, and use its purchasing power to encourage key healthcare providers to increase school readiness rates. 

While New York Medicaid is a state-wide programme serving millions and doesn't usually partner locally, this opportunity to join an existing collaboration and begin addressing the social determinants of health was too exciting to pass up. 

In early conversations, we discovered how these two sectors have immense power over creating good outcomes for young children, yet weren't using shared measurement. Paediatricians and healthcare providers focus on preventative practices, such as immunization rates or healthy growth indexes, while early childhood educators focus on word acquisition or structured play to build cognitive and emotional abilities. Both sectors working fiercely to benefit children but lacking a common 'north star' measurement. 

Medicaid came to adopt the kindergarten readiness indicator for this project in order to reflect that their impact is part of a larger ecosystem where many sectors contribute to ensuring children are entering school ready to learn. 

The partnership had already identified an area of concern – many children were entering formal school settings with developmental delays which should have been caught earlier, and no standardised practice across all paediatric practices were in place to ensure that all children are routinely screened for delays. Additionally, when children were identified as having potential delays, breakdowns in referrals, warm handoffs, and feedback loops were identified as key barriers to ensuring children received the appropriate services.

Each partner who 'owned' part of the process was invited to join the collaborative. The first task was creating a process map which clearly laid each step involved in identifying children, referring them for care, providing services, and closing the feedback loop with all parties. At each step of the way, key questions were raised, often resulting in more partners being invited to the table. 

This process was also sobering – it showed just how complex the system is for families with children with developmental needs. It's no wonder so many children fall through the cracks. As the process map developed, each provider group was able to tweak the process to reflect what would work for them, leading to high provider engagement – real engagement is built through co-creation.

Since each partner holds a key piece of this complex process, it's essential that clarity exists as to which partner conducts which steps. These are mutually reinforcing activities, where a group of partners complete specific actions in a way that is coordinated with the actions of others.

Lastly, as we forge ahead with a new way of doing things, we must remember to use constant communication to keep everyone in the loop at all times. As we like to say, we don't know what we don't know. Once all children in our community begin to get screened, we may run into serious service shortages, which can have real impact on our goal if we aren't all monitoring the situation as it develops. 

Monthly meetings with all partners have been established to ensure that trust is being built, data is being shared, and any hiccups or new challenges aren't buried but can be problem-solved as a team.

Cross-sector collaboration isn't easy but it is what's needed to achieve the urgent and audacious goals we face in both the healthcare and education sectors. We hope you keep us accountable to moving the dial for children and families and we here in America look forward to tracking your cross-sector successes.

Co-authored by Jason Helgerson, New York State Medicaid director and Juliette Price, director The Albany Promise. Follow them on Twitter @policywonk1 and @julietteprice
 
Like this post?
Share it on Twitter.