Article
Barts Health NHS Trust women's network
The Health and Care Women Leaders Network is highlighting women's networks in health and care.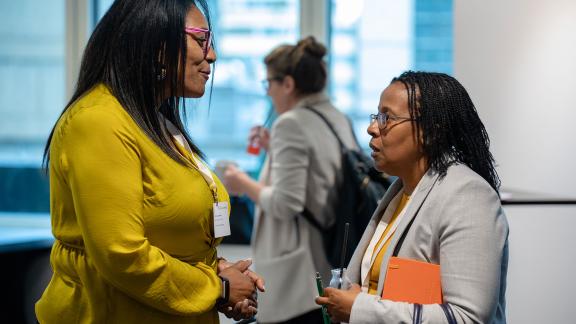 Manpreet Randhawa, head of pharmacy and Eva Fiz, deputy director, improvement at Barts Health NHS Trust and co-chairs of its women's network, tell us about the network, what it is focusing on, its key achievements to date and what next for the network.
About the network 
The women's network at Barts Health NHS Trust has over 700 members and has been running for over four years, with the core principle of supporting women in the workplace. As Barts Health is located in one of the most diverse populations in the country, it is essential that we build an inclusive organisation, one in which everyone feels welcomed, valued and empowered. The previous trust co-chairs (Lucie Jaggar and Helen Byrne) founded the network and laid a solid foundation. From March 2021, we (Eva and Manpreet) have been co-chairing the network with a number of site co-chairs to ensure we reach as many people as possible while maintaining our overarching strategy and drive.
The network actively works with other Barts Health networks to address inequality and diversity at the trust. All the network co-chairs are part of the trust inclusion board, so we can input to the agenda and amplify the voices of staff to drive change. The trust and site co-chairs meet monthly to discuss ideas on how to develop strategies to build on priorities, share ideas and catch up on site activities.
Priorities
The women's network priorities are aligned with the trust's We Belong strategy. In March 2020, the network reviewed its focus and with the tragic events surrounding Sarah Everard's death realised we needed to respond to staff calls for action. This resulted in staff safety being added to the agenda.     
The network's current priorities are:
Supporting the reduction of the gender pay gap at Barts Health - we have a task and finish group actively working on this.

Supporting the implementation of the flexible working policy across the organisation – the trust is part of the NHS Flex for the Future programme.

Career development – we are currently working with our staff networks and inclusion team.

Raise awareness of menopause – we are currently working on including wider women's health issues in the agenda.

Reviewing and updating our parental leave policy by adopting the Smallest Things Employer Charter and Pregnancy Loss Pledge.

Working to improve safety at work for all our staff.

Ensure intersectionality is embedded in everything we do.
Alongside our priorities the women's network also support and run events related to the mental health agenda.
Achievements
Barts Health NHS Trust has formalised the network roles for trust and site co-chairs by requesting line managers approval for dedicated time to the role. Freeing up time for network leads is always challenging but this direction highlights the trust's commitment to build a more inclusive organisation.

Last year we recruited seven new site leads and formalised the protected time for each of our leads.

We collaborated with Johnson & Johnson on an event; Women in Leadership - Our Journey into Leadership which was a brilliant success. We lined up impressive speakers, it was received positively and had over one thousand views.

The gender pay gap task and finish group has used data to understand drivers. They presented their findings to the trust inclusion board who agreed on setting a goal to decrease the trusts gender pay gap from 12.7 percent to 11 percent by 2022.

Last year we also started building relationships with other women's network to share ideas and to support future development. We have run joint events which has allowed us to reach a large group of women, share resources and learn from each other.

We have worked with HR to present a proposal to update the parental leave policy to adopt the Smallest Things Employer Charter and Pregnancy Loss Pledge, giving parents using surrogates, and employees becoming a surrogate the same rights as birthing or adoptive parents.
What next
In 2022 we will continue to work with HR to support the implementation of the flexible working policy, which is part of our work programme for gender pay gap and career development.
At this time of year we are focusing on one of our biggest events, International Women's Day on 8 March. This year's national campaign theme is #BreakTheBias , at some point in our lives we have all faced bias, stereotypes, and discrimination so we think this campaign will resonate with everyone.  
Get involved
The network is open to all Barts Health NHS Trust staff. If you would like to know more about any of the work we are doing, drop an email to bartshealth.bartswomensnetwork@nhs.net or contact us via Twitter @BHWomen_network.
Alternatively, you can also get in touch directly with co-chairs Manpreet Randhawa at manpreet.randhawa@nhs.net or Twitter @rmanpreet and Eva Fiz at eva.fiz@nhs.net or Twitter @_evafiz.
Feature in our series
If you'd like to be part of the Health and Care Women Leaders Network series featuring women's networks in the health and care sector email us at women.leaders@nhsconfed.org.