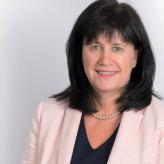 Yvonne Ormston
Yvonne Ormston MBE is chief executive of Gateshead Health NHS Foundation Trust. Yvonne was awarded her MBE in recognition of her services to the National Health Service in a career spanning over 30 years. Yvonne took up post with Gateshead in June 2019.
Yvonne was previously chief executive of North East Ambulance Service (NEAS) where she has worked since October 2014 and was also a board member of the Association of Ambulance Chief Executives. Having spent her 30 year career in the NHS, Yvonne has significant experience of working in multi-agency partnerships, particularly across the health and social care setting.
As a certified leader in Lean accredited by the Virginia Mason Production Systems, Seattle, Yvonne has undertaken significant pathway improvement work particularly in the field of emergency care. With lead responsibility for the commissioning of a new Emergency Department (ED), this pathway redevelopment was used extensively to alter patient care processes to optimise quality, efficiency and effectiveness. This work inspired an interest in organisational development and the cultural conditions under which service innovation are optimised.
Yvonne is the lead chief executive for the Workforce Race Equality Scheme across Cumbria & North East Integrated Care System.