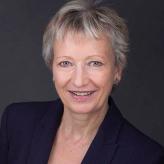 Valerie Morton
Valerie joined us in Summer 2021 as Trustee and Chair of the Remuneration Committee.
Valerie has enjoyed a lifelong career in the voluntary sector, including leadership roles at the NSPCC and RNIB.  She is a respected columnist, commentator and speaker both nationally and internationally, and was awarded the honour of Fellow of the Chartered Institute of Fundraising. 
Valerie had held NHS Non-Executive roles at Bedfordshire Heartlands PCT, Midlands and East Strategic Health Authority and East of England Ambulance Service NHS Trust.  Currently, Valerie combines her not-for-profit governance and management consultancy with being a Chair of Independent Review Panels for NHS Continuing Health Care appeals alongside a wide range of volunteer roles.
Throughout her wide range of roles, Valerie has championed the sustainability agenda, whistleblowing and Freedom to Speak Up.  She feels passionately about inequalities, issues around equality and diversity and the need to embrace diversity of thought and experience.