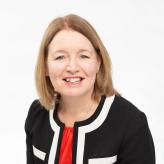 Tracey Cox
Tracey Cox has been the accountable officer for Bath and North East Somerset CCG (BaNES CCG) since  November 2014 and also served as the interim accountable officer for Wiltshire CCG from October 2016 to May 2017.
Tracey has over 26 years experience of working in healthcare, having joined the health service in 1990 as a management trainee. She has worked in both the provider and commissioning sector, working in several London hospitals including Whipps Cross, the Whittington Hospital and the Royal United Hospitals Bath prior to moving into commissioning in 2001.
Tracey has experience of integrated commissioning and delivery of health and social care which has been a prevailing feature of the system within Bath and North East Somerset for a number of years.  BaNES CCG and Council have recently jointly re-commissioned community services in BaNES  (your care, your way) to create a prime provider of community health and social care services spanning over 70 different services. Tracey leads on the Preventative and Proactive Care Work stream of the BaNES, Swindon and Wiltshire Sustainability Plan. Tracey has a particular interest in organisational development and completed a Post Graduate Certificate in Organisational Development and Leadership at the University of the West of England in 2015.
Tracey is the NHSCC board representative for South West England. She joined the NHSCC board in July 2017.