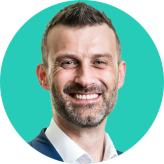 Steve Moore
I have worked for the NHS for most of the last 30 years and have had the great privilege of holding the position of Chief Executive in Hywel Dda since January 2015.
Much of my senior career has involved working in rural areas including leading the Primary Care Trust in Cornwall and Isles of Scilly and, for a short period, being the Area Director for Devon and Cornwall in NHS England. The time I spent in the private sector as Consulting Director for Health and Social Care Policy at ICF International gave me a fresh perspective on the challenges and opportunities in the NHS through a more international lens and I hope I have brought all this experience to bear in my current role.
I am a strong believer in the need to make our organisation the best it can be by supporting our staff to learn, develop and grow. We still have much to do in this regard, but I would like to see Hywel Dda be a fantastic place for people to develop and grow in their chosen career. By doing this, I know we will be able to go on providing the great care and support that our patients and their families need.