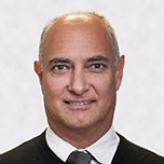 Nazim Jivani
Nazim Jivani was elected as a representative for the London geographical constituency in July 2018.
He is chair of the Kingston Clinical Commissioning Group Governing Body and works with other GPs, NHS Kingston, Kingston Council and Kingston's local Healthwatch to take forward the integration of health and social care.
He has been a GP in Kingston for 20 years. He specialises in musculoskeletal conditions and is currently leading a programme of improvements in this area. He is also Clinical Lead for End of Life Care and co-chairs the London Transformation Board.