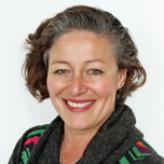 Dr Josephine Sauvage
Dr Josephine Sauvage is a GP at the City Road medical practice and the Chair of NHS North Central London CCG.
She has worked in Islington since 1990, first as a school doctor with the child health programme in local schools and since 1999 has been a GP at City Road practice. She is also a GP trainer/Foundation Year two trainer, along with being chair of the integrated care programme board, the organisational development lead and a member of the health & wellbeing board. She is committed to working with the local population and local organisations, to improve services for the people of Islington.
Josephine joined the NHSCC board in 2017.