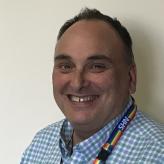 Ifti Majid
Ifti qualified as a Registered Mental Health Nurse in 1988, training at St George's Hospital in London. He has held a range of clinical posts in adult mental health services, both in acute inpatient and community settings and continues hold an active mental health nursing registration. Ifti became Chief Executive of Derbyshire Healthcare on 6 October 2017.
Having completed post-graduate management studies at Sheffield Hallam University with a particular interest in business process redesign Ifti moved into Director Roles in 2008. A great supporter of the benefit of integrated systems on improving outcomes for local populations Ifti has led the development of Derbyshire's Anchor Charter and is the Lead CEO for Derbyshire Provider Collaborative at scale.
Ifti is passionate about inclusion and driven to make a personal impact on diversity in a healthcare setting. He is privileged to be the Co-Chair of the NHS Confederation BME leader's network.