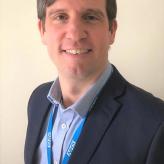 Henry Black
Henry Black was elected as Finance Forum Representative in July 2018.
Henry has over 18 years' experience in NHS finance, with ten of those operating at very senior level. He has covered roles in both commissioning and provider organisations, with his last role prior to Tower Hamlets as Deputy Director of Finance at a London Acute Hospital, before joining Tower Hamlets CCG in May 2013. Prior to that the bulk of his employment was spent within Tower Hamlets PCT, so he has a long history within the local area.
Since the middle of 2016 Henry has been working as the lead Chief Financial Officer (CFO) for the north east London sustainability and transformation plan (STP).
He is also an alumnus from the History Faculty of Queen Mary and Westfield College (now Queen Mary College), University of London, so he spent his student days living in E1 on the Mile End Campus.
As a graduate from the National Financial Management Training Scheme and a qualified Accountant, Henry has a broad range of experience and a committed NHS ethos. He also comes from a family of clinicians.
A keen (if technically limited) sportsman Henry enjoys playing football and cricket, as well as participating in pretty much any spectator sport. He is also an avid reader of novels and historical books.