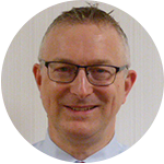 Dr Andrew Goodall
Dr Andrew Goodall was appointed to the role of Director General of Health and Social Services/Chief Executive NHS Wales in June 2014. His role includes both supporting Ministerial priorities for health and social care within the Civil Service structures, and the leadership and oversight of NHS Wales.
Including this current role, Andrew has been an NHS Chief Executive in Wales for 15 years. His previous post was Chief Executive of Aneurin Bevan University Health Board, a position held from the Health Board's inception in October 2009 until 2014 after NHS re-organisation to the integrated Health Board model. During his 30-year NHS career, Andrew has held planning and operational positions across a number of NHS organisations across South Wales as well as national roles. He has particular areas of interest in improving patient safety, quality and patient experience; partnership working and collaboration across Public Services; and delivering frontline services through service improvement and modernisation.
Dr Goodall has a law degree from Essex University and a PhD in Health Service Management from Cardiff Business School. He was awarded a CBE in the 2018 New Year Honours for his services to the NHS and public services.