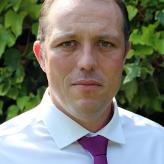 Dean Wallace
Dean has worked across the public sector in the East Midlands and north of England for over 20 years, leading strategic activity in Public Health for the last decade. He took up the post of Director of Public Health for Derbyshire in 2016 and his practical, person-centred approach saw the area lead and pilot a number of national schemes during the pandemic.
Dean's focus on, and passion for, taking a holistic approach to public health and addressing the social and economic factors which impact on health inequalities saw his team win a 'highly commended' MJ award for Public Health Improvement in 2021.
With a background in sport science and men's health, Dean is passionate about unlocking the potential of communities across diverse areas like Derbyshire and placing health as a foundation stone to helping people achieve the best possible quality of life.