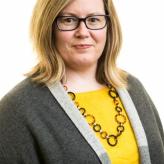 Anna Lewis
Anna started work in the NHS in 1998 and a year later joined the Graduate Management Training Scheme in the South West. She has a background in NHS general management and senior leadership, primarily in integrated mental health and social services. Since 2015, Anna has built a portfolio career as a consultant, facilitator, accredited executive coach, NED and trustee, supporting NHS and third sector Boards and organisations, with a specific interest in quality improvement and OD.
Anna works closely with partners, including Affina OD, the National Collaborating Centre for Mental Health, and the Positive Practice in Mental Health Collaborative.
She is also a part-time doctoral student at Swansea University, with a research interest in psychological safety in the context of quality improvement and team learning. She teaches at postgraduate level in patient safety and QI.