News
Pride Month 2022
Pride Month celebrates LGBTQ+ people in all their diversity, raises awareness, and combats prejudice with education.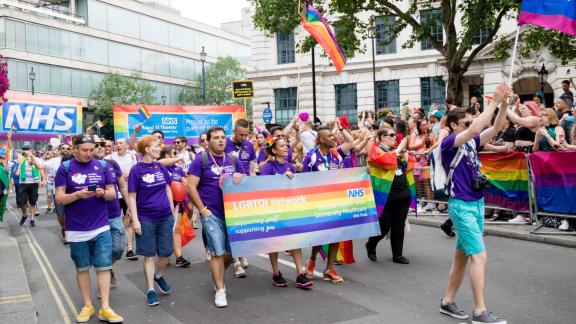 Every year, during the month of June, the LGBTQ+ population and their allies come together to celebrate and recognise the influence LGBTQ+ people have had around the world. It is so important because it marks the start of huge change within the LGBTQ+ community. Society has come a long way since the Stonewall Riots of 1969, but we need to continue to raise awareness, challenge negative attitudes, celebrates sexual and gender diversity and encourage inclusiveness. 
For LGBTQ+ people, Pride Month promotes their dignity, equal rights, self-affirmation and is a way of increasing society's awareness of the issues they face.
Today, some barriers to equal rights and opportunities remain and contribute to some of the negative experiences that the LGBTQ+ population face. It is therefore crucial that NHS employers have open conversations in the workplace about the experience of their LGBTQ+ staff. It is also important that employers educate colleagues so that they can help to create a more welcoming working environment for all. 
What's the theme this year?
Each year there is a specific theme to make people aware of the achievements and struggles of the LGBTQ+ community. The theme for 2022 is Politics in Art and it is based on art and design.
What were the Stonewall Riots?
The riots were prompted by a raid that took place during the early morning, at the Stonewall Inn in Greenwich Village, Manhattan. The LGBT community held a series of spontaneous, often violent demonstrations to protest against the raid and calling for the establishment of places that gay, lesbian and transgender people could go and be open about their sexual orientation. In such places there should be no fears of being arrested. The riots served as a catalyst for the rights of LGBT people, and within six months, two gay activist groups had formed in New York. Over the years since the event, many gay rights organisations have been formed around the world.

Further information: