News
Disability History Month 2022
Find out how to support this campaign, which is celebrated widely across the NHS.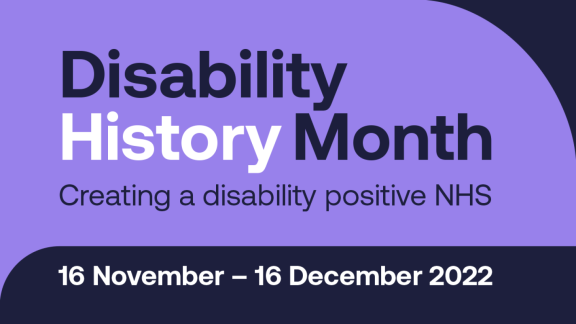 Disability History Month takes place between 16 November and 16 December 2022, providing an opportunity to celebrate the achievements of people living with a disability and also to raise awareness.
In the UK, one in five people have a disability, 83 per cent of which are acquired during working life.
NHS Employers, part of the NHS Confederation, supports Disability History Month 2022 as part of its ongoing work with NHS England to embed the Workforce Disability Equality Standard (WDES), and ensure NHS workplaces are open, inclusive and a place where everyone feels like they belong.
The theme for 2022 is 'Creating a disability positive NHS' which will also be the focus at our Disability Summit on 7 December. Our summit will be chaired by disability specialist and entrepreneur Shani Dhanda and feature other industry experts, disabled staff, disabled staff networks and leaders. It will also shine a light on good practice and actions that can be taken to support disabled staff in the workplace. Visit our Disability Summit event page to see the full programme and to book your place.  
For more information about how your organisation can get involved, and to see statistics and a list of information and resources to help you support your disabled workforce see the NHS Employers website.