Article
Dorset HealthCare University NHS Foundation Trust women's network
The Health and Care Women Leaders Network is highlighting women's networks in our sector.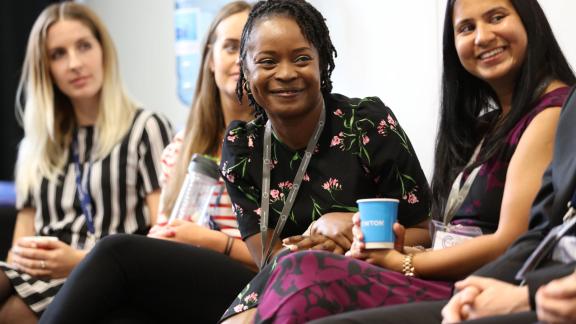 Rachel Small, deputy service director at Dorset HealthCare University NHS Foundation Trust and co-chair of its women's network, tells us about the network, what it is focusing on, its key achievements to date and what next for its members.
About the network
The Dorset HealthCare University NHS Foundation Trust (DHC) women's network launched in 2019 and currently has an active membership of 170. The trust is a mental health and community services provider serving the population of Dorset. The network is open to DHC staff of any gender, however they self-describe, and it's also open to allies. The network has three co–chairs who work in roles across the organisation. The network provides mutual support and representation on issues impacting women at work, as well as lobbying for change and role modelling the culture we would like to see to bring about gender equality in the workplace.
Priorities
Our network members chose to focus on three areas in 2021.
Supporting women in the organisation with their career development and confidence building.

Raising awareness and educating staff on health issues that affect women in work e.g. menopause, periods, maternal health.

Encouraging women to support one another rather than compete.
Our proposal for 2021 was therefore as follows
Hold two network events online – providing a mutually supportive space for women at work to feedback their experiences, be inspired by guest speakers, make supportive links and network with colleagues to support being effective in our current roles and our future development.

To ensure we have inspiring guest speakers at the events who can give us a reflective account of their own career development, and to use the events to consider practical ways the organisation can support women with their career development.

To work with HR and learning and development on raising awareness of women's health issues in the workplace and how this can feed into training and policy development in the organisation.
Achievements 
We provide a regular newsletter to all members with reflections on topical issues, book reviews, podcast recommendations, opportunities to become more involved and help and support for issues impacting women in the workplace.

We held a Building your confidence workshop led by a non-executive director who previously held executive roles in the police force.  

We held a health and wellbeing event where we ran multiple breakout rooms, gathering staff experiences and suggestions for change on health and wellbeing; periods, peri-menopause, and menopause; pregnancy, maternity, breastfeeding and return to work; caring responsibilities; adoption and fostering; and fertility, miscarriage and loss.  

We celebrated International Women's Day with a social media campaign where staff nominated an amazing woman they worked with and gave them some kudos.
What next 
We are in the final stages of pulling together a report for the trust's board based on the suggestions from the health and wellbeing event. The report will set out recommendations on how women's health and wellbeing can be improved in the workplace. This includes better support, training, policy change and other tangible initiatives to make us an excellent employer for women. In addition, we are planning our next event themed on women's safety, to better understand staff experiences.
Get involved 
The network is open to all Dorset Health Care staff. If you would like to know more about any of the initiatives detailed here, drop an email to dhc.womens.network@nhs.net.
Feature in our new series
If you'd like to be part of this Health and Care Women Leaders Network series featuring women's networks in the health and care sector email us at women.leaders@nhsconfed.org.