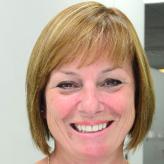 Ruth Poole
Preventx is a health technology company, focusing on the provision of and access to reliable and anonymous sexual health services on behalf of the NHS and local authorities. The company provides services to a broad range of service users including the most vulnerable in society.
Previously she was Director of Speciality at Celesio UK, responsible for growing the speciality services that support an integrated NHS including clinical homecare, hospital and community services. Ruth led the company's relationships with NHS leaders, commissioners and pharmaceutical companies, developing new solutions and new models of care in today's healthcare system.
Prior to that Ruth was Group Commercial Director at Healthcare at Home, an innovator in home healthcare, where she was responsible for driving the growth of the start-up business from a team of four with just one patient, up to 2,000 staff with over 150,000 patients and an established part of the health delivery system.
Ruth is a clinical nurse by background and some of her proudest moments were achieved during her time delivering patient care as a cancer nurse specialist. Her journey to the top of the industry has given Ruth an insight into what really matters for patients and their families. She takes immense pride in the dignity and respect that her work instils in patients; giving them a better quality of life, through facilitating expert clinical care.
Ruth is Chair of the NHS Confederation's Subsidiary Board, NHS Confederation (Services) Company Limited.