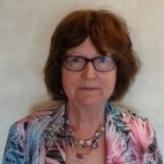 Prof Vivienne Harpwood
Vivienne was appointed Chair of the Powys Teaching Health Board on 1 October 2014, having taken partial retirement from Cardiff Law School some years earlier to concentrate on her work within NHS Wales. Prior to that she served as Vice Chair of Cwm Taf University Health Board for four years and Vice Chair of Velindre NHS Trust for eight years.  She has a strong background in medical law and was course director for more than 20 years of the Legal Aspects of Medical Practice (LLM) degree, the first Masters degree of its kind, established in 1987. 
She has published widely in the fields of medical law and is the founding editor of Butterworth's Medico-Legal Reports and the journal Medical Law International. She has given invited lectures for many years on a range of medical law issues to healthcare professionals in the UK and overseas. She has practised as a barrister, specialising in personal injury and clinical negligence work, and Coroners' cases. She has given many media interviews on issues in Medical Law and Personal Injury Litigation.
She served on the UK Government's NHS Complaints Review Committee, whose recommendations in 1994 form the basis of modern NHS Complaints Systems in all four UK jurisdictions. She was also a member of the Silicone Gel Breast Implant Review Group between 1998 and 2003. Among her more recent advisory work is chairing the Wales Cancer Research UK Centre Governance Board, membership of the Wales National Information Governance Advisory Board, membership of the Wales DNAR-CPR (do not attempt cardio-pulmonary resuscitation) Core Group, Membership of the WHSSC Individual Funding Requests Panel and Prioritising Panel for medical treatment, and membership of the Wales Organ Donation Expert Reference Panel. She presented oral evidence to the Welsh Government's Health and Social Care Committee during the passage of the Human Transplantation (Wales) Bill 2013 and is a member of the Human Transplantation (Wales) Act 2013 Expert Reference Group. 
Vivienne is Chair of Welsh Health Specialised Services Committee.