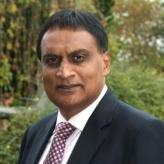 Prem Singh
He has spent most of his career working in the NHS in the East Midlands and South Yorkshire areas and also worked in social services in Sheffield for seven years.
He has extensive experience of health and social care management having served at board-level positions for over 22 years. He has successfully led community, mental health and learning disability services, including as an executive director of nursing and quality.
Prem was also chief executive of Derby City Primary Care Trust – a role he held until health service commissioning was taken over by the new clinical commissioning groups – and was previously Chief Executive of Chesterfield Primary Care Trust.
Prem has now established a successful independent consultancy business, providing management and leadership support to individuals and organisations, and is a qualified executive coach. He is married and has two children.