News
Supporting Black History Month 2022
October is Black History Month. Learn about race equality in the NHS and register for our BME Leadership Network events.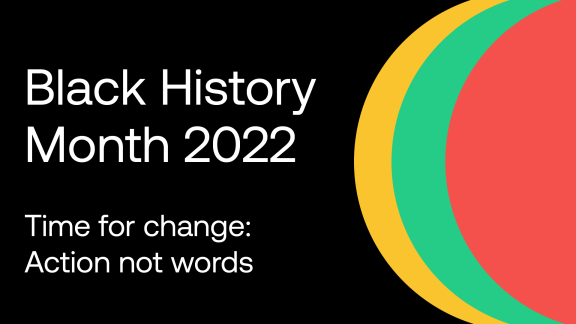 Black History Month honours the achievements, culture and history of black people. Our BME Leadership Network is hosting two face to face events on 12th October to tie in with the theme for the month 'Time for change: Action not words'.  
Figures taken from the NHS Workforce Statistics (March 2020 data) highlight that black people make up 6.5 per cent of NHS staff. 5.2 per cent of the medical workforce and 6.6 per cent of the non-medical workforce are from a black background. 1.3 per cent of very senior managers working in the NHS are black.
NHS England published the Workforce Race Equality Standard (WRES) report earlier this year, highlighting the experience of black and minority ethnic (BME) people working in the NHS. The report showed some improvements over the last three years, but revealed higher levels of harassment and bullying being reported by BME staff compared to white staff, and less BME staff being shortlisted for jobs compared to white staff.
The NHS Confederation's BME Leadership Network exists to strengthen the voice of NHS BME leaders and to support NHS organisations to meet the needs of all communities. In this short video the network highlights why now is the time to act to tackle inequality and racism. 
Richard Stubbs, co-chair of the BME Leadership Network and chief executive of the Yorkshire and Humber Academic Health Science Network said:
"The NHS workforce is more diverse than at any other point in its history. Our Shattered Hopes report highlights that many senior leaders from BME backgrounds had experienced verbal abuse and behaviour targeting their racial, national or cultural heritage at least once in the last three years. BME leaders also told us that their managers, peers and other colleagues were a particular source of this racist treatment, more so than abuse from members of the public."
"Addressing discrimination and disparity is an essential part of the job of the NHS. The BME Leadership Network welcomes the support of both BME and non-BME senior leaders to amplify this work. I encourage senior leaders to join our network and attend our forthcoming events taking place during Black History Month."
Our BME Leadership Network events took place:

12 October - BME Leadership Network members' meeting, 5pm - 6.30pm
This was an opportunity to come together to hear about plans to address the recommendations of our Shattered Hopes report, including details of our new mentoring programme.
12 October – 'Race, science and the NHS' with Dr Adam Rutherford, 6.30pm - 9.30pm   
Lord Victor Adebowale hosted an evening with scientist, author and broadcaster Dr Adam Rutherford. Adam drew on themes from his latest book 'Control: The Dark History and Troubling Present of Eugenics'. Adam discussed the potential impact of new gene-editing techniques and how scientific racism and eugenics ideology, both past and present, have contributed to racism within the NHS and wider society. 
Further information
Visit the NHS Employers' Black History Month page to find out what else is happening across the NHS and access resources race equality related resources.
The NHS Race and Health Observatory (RHO), which is hosted by the NHS Confederation and supported by NHS England and NHS Improvement, has been set up to investigate the impact of race and ethnicity on people's health
Follow our Twitter channels @NHSConfed and @NHSC_BMEleaders.