News
Supporting Black History Month
It's Black History Month: find out what's happening and the importance of supporting this campaign, which is celebrated widely across the NHS.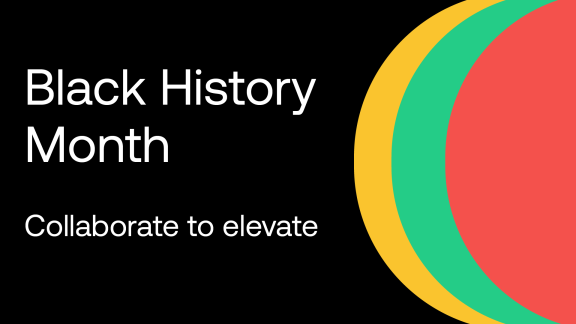 Black History Month honours the achievements, culture and history of black people. Our BME Leadership Network is hosting a series of virtual events to tie in with our theme for the month 'collaborate to elevate', building unity and solidarity to amplify our voices and use our collective strength to rise up individually and collectively.
The NHS is the fifth largest employer in the world, with one in five workers of BME heritage, black people make up 6.5 per cent of NHS staff. The proportion has increased but currently, only 10 per cent of NHS board members are from BME backgrounds. White staff are still 1.5 times more likely to be appointed for a job than BME staff.
As the membership organisation representing all areas of the health service, we are clear that addressing discrimination and disparity is an essential part of the job of the NHS.
Unfortunately, discrimination leads to talent being wasted and poor staff experience leads to poorer outcomes for patients and communities, so it is vital tackling this issue is at the forefront of every NHS organisation.  
The events of the pandemic have further highlighted the need for action and support for BME health and care colleagues. In December 2020, the NHS Confederation BME Leadership Network published: Perspective from the Frontline: The Disproportionate Impact of COVID-19 on BME Communities. 
This report pointed to the role of institutional racism in the disproportionate impact of the COVID-19 virus on people from a minority ethnic background. In a survey that informed the report, 92 per cent of respondents called for greater acknowledgement of the role of institutional racism, in health services.  
The NHS Race and Health Observatory (RHO), which is hosted by the NHS Confederation and supported by NHS England and NHS Improvement, has been set up to investigate the impact of race and ethnicity on people's health.
It will provide evidenced recommendations regarding long-standing health inequalities affecting ethnic minority patients and communities. This includes maternity and neonatal outcomes, mental health, data and digital access to healthcare and the immediate challenges of the ongoing impact of the pandemic. 
Joan Saddler OBE, director of partnerships and equality, NHS Confederation and co-facilitator of the BME Leadership Network said: 
"The national Black History Month theme is 'proud to be'. We know our members are proud to be part of the NHS, and to have played such an important role in enabling our NHS to have achieved so much, during this particularly challenging time.
 

This Black History Month we choose to celebrate and elevate the achievements and resilience of our colleagues and our communities. As the NHS People Promise says, we all have a voice that counts - let's be proud of uniting our voices, in pursuit of our shared goal of making our NHS a vehicle for delivering equality for all." 
Register for our BME Leadership Network events
11 October 4-5:30pm - In conversation
Hosted by Ifti Majid, co-chair of the BME Leadership Network and and chief executive of Derbyshire Healthcare NHS Foundation Trust. This session will bring leaders together to assess upcoming leadership challenges, opportunities, best practice and post COVID-19 working.
20 October 1-2:15pm - Inaugural lecture 'Memories and motivations' 
Professor Dame Donna Kinnair DBE will share insights on what's happening in the NHS, overcoming obstacles and making positive change happen.

26 October 12-1:30pm - Looking back to look forward 
Hosted by Danielle Oum, chair of Birmingham and Solihull Mental Health NHS Foundation Trust. Learn about the history and nature of the anti-racist struggle in the UK and the lessons learned.

2 November 10:15-11:45am - Innovation + Diversity = Better outcomes for patients
Hosted by Richard Stubbs, chair of the BME Leadership Network Steering Group and chief executive of Yorkshire and Humber Academic Health Science Network (AHSN). This session will explore how greater diversity within our innovator communities enhances the quality and outcomes of our health innovation ambitions. 

In addition: 
NHS Race and Health Observatory - If it's not inclusive it's not compassionate - Taking place on 4 October 12noon-1pm, this session will focus on Professor Michael West's new book 'Compassionate Leadership'. A panel will also discuss the principles of compassionate leadership.
NHS England and NHS Improvement Race Ahead – NHS Big Conversation on Race - Taking place during October, Race Ahead will be a series of conversations and panel discussions on 6, 12, 19 and 26 October, from 10-1pm focused on the specific actions we can all take to improve the outcomes and experiences of our staff. 

Access resources
The Race and Health Observatory has published an infographic highlighting ethnic health inequalities in the UK, to coincide with Black History Month. 
NHS Employers, part of the NHS Confederation, also published an infographic on improving race equality in the NHS, and NHS organisations can check the disparities between the experience of BME colleagues relative to their white peers, in their local areas, by using their own Workforce Race Equality Standard (WRES) report.

Find out what else is happening during Black History Month across the NHS and access NHS Employers' information, including key stats and resources that supports race equality.
Follow our social media channels if you would like to find out more @NHSConfed and @NHSC_BMEleaders