Webinar
The Big Question with John Amaechi OBE
Join the Health and Care LGBTQ+ Leaders Network for a webinar with Professor John Amaechi OBE on effective leadership, inclusion, equity and diversity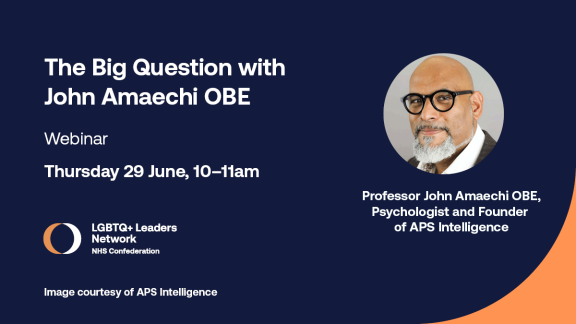 As part of Pride season, the Health and Care LGBTQ+ Leaders Network will be hosting a special webinar with Professor John Amaechi OBE on Thursday 29 June - the anniversary of the Stonewall riots.
John is a respected organisational psychologist, best-selling author and influential thinker. He will share his insights on effective leadership, inclusion, equity and diversity – challenging you to think differently and inspiring you to make positive change within your own health and care organisations.
You will also have an opportunity to ask John any burning questions during a live Q&A.
Book now
Please note that this event is open to members of the NHS Confederation's leadership support networks, and NHS staff working at Sussex Partnership NHS Foundation Trust; and North London Mental Health Partnership.
Once you register, you will be sent a joining link. This link is personal to you - please do not share it.